A while ago I did a post to make a backup of the phone, although it works sometimes you had to reconnect WnSPC restart the FTP server or mobile. Therefore I started another search to make a mirroring of contents of the mobile on computer with the same premises:
Transfer files wirelessly.
Without using cloud services, third-party online or any system with intermediaries. Resorting as maximum to the home network.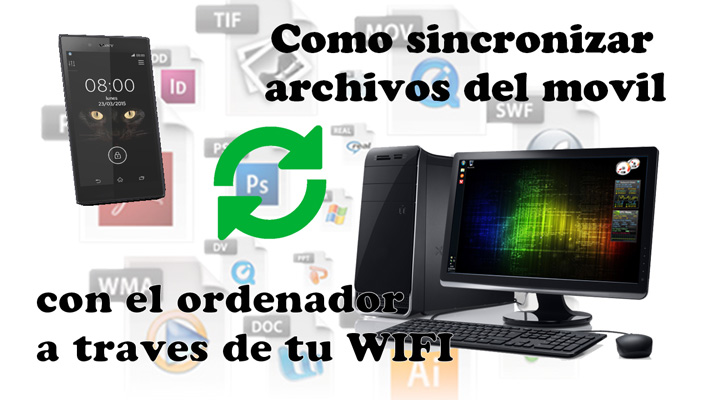 I've done it again, even though I did it via computer with FTP, now I do it via mobile with SMB. And the truth with less troubles and more advantages.

These are the advantages:
| | | |
| --- | --- | --- |
| | WinSPC | FolderLITE |
| Folders | Only allows specify one source and destination directory. | Allows multiple sync directories, may sync them individually or all at once. |
| Complexity | You must configure the FTP connection with things that require specific knowledge on the subject. | The only requirement is that the target directory on the computer be shared. |
| Simplicity | Must run two programs at same time, both the app (Android) as the application (Windows). | Just have computer running and a shared folder while runs FolderLITE (Android). |
Windows
On the computer there are only two requirements:
Know the IP of computer.
The folder where make synchronization is shared.
Know the IP of computer.
To find the IP must open the Network and Sharing Center either through the icon of tray system or Control Panel.
In system tray, click on icon of network connection and click on "Network and Sharing Center"1.

Click the network connection you have2, either wireless (WIFI) or cable (RJ45).

Click on 'Details'3.

Take note the IP that's "IPv4 Address" 4.
There are other ways to access the Network and Sharing Center through the Control Panel [Ctrl]+[pause] or the Start Menu, but the icon in system tray section bring us straight into networks section.
Share folder
There are several ways to share a folder, depending on your needs or preferences.
Android
Should check a little the settings of himself Android to make more efficient transfers, such as keep WIFI on sleep and disable any power management policy. Or at least condition it to certain times, as could be done sync while charging the mobile.
Let's keep active WIFI although the mobile is in sleep status:
| | |
| --- | --- |
| 1. On settings go to WIFI. | |
| 2. Clicking on the three squares in the bottom right side, and tap "Advanced". | |
| 3. Seek "Keep WIFI during sleep" option. | |
FolderLITE
It's an app to sync accounts in-cloud and some network protocols that can be customized triggers and conditionals. Some accounts are: Amazon, Box, Dropbox, FTP, GoogleDrive, MEGA, OneDrive, SFTP, SMB/CIFS, etc.
The main menu of FolderLITE have four headlines:
File transfer The classic file manager, no more.
Sync status Shows the current operation, if is uploading a file and speed, if is comparing files, the WIFI network connected, if is charging.
Accounts Accounts that you have in cloud, on network, etc.
Folderpairs Are sync operations. These include all: used account, sync type, folders, scheduling, filters, conditionals.
Let's configure FolderLITE:
Account.
Select Accounts and then tap on symbol (+)1.
In account type will use SMB/CIFS2 which is basically the Microsoft network protocol.
Give a name
Type the computer IP, computer account (user/pass).
…and to be sure that works there's a TEST button3 to test the account.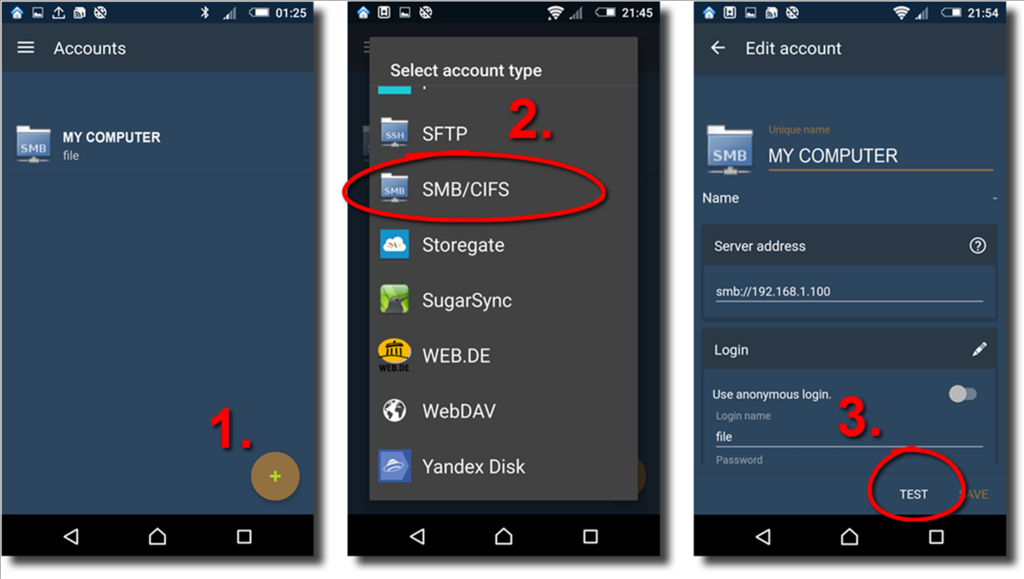 Folderpairs.
Select Folderpairs and then tap on symbol (+).
Give a name.
Specify the account to use. In this case have created it before, but can also be specified accounts in cloud if we have.
In Sync status select To remote folder.
Specify the source folder (mobile) and target (computer).
In section Sync options tilt Sync subfolders, Sync hidden files, Sync deleted and Overwrite old files: (always), If conflicting modifications: (use local file), all other options untilted.
The other options are to everyone's taste: scheduling, conditions, notifications, etc.

These would be the minimum options to make a mirror copy on computer. If scheduling is used to synchronize certain days or hours you can be set a series of conditions, and only make sync when charging the battery, or only if is connected to home WIFI, so for example you go on vacation or at pub taking a beer would not try to sync when connected to another network.
For a manual sync must go to Sync Status section and tap in to Sync all to make a sync of everything, or tap in the folderpair you want to synchronize. Can also use widgets to sync manually.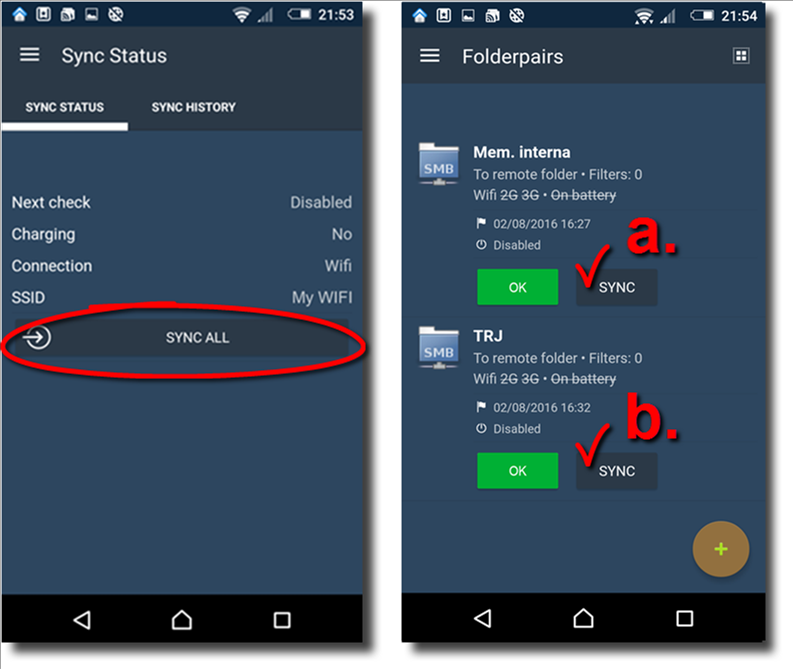 If make backup "of everything" both int.memory (
sdcard0
) as μSD card (
sdcard1
) will make syncs but in logs will appear errors because there are some files and directories that can't be read as the 'secure' directories in int.memory or the
autorun.inf
of μSD card.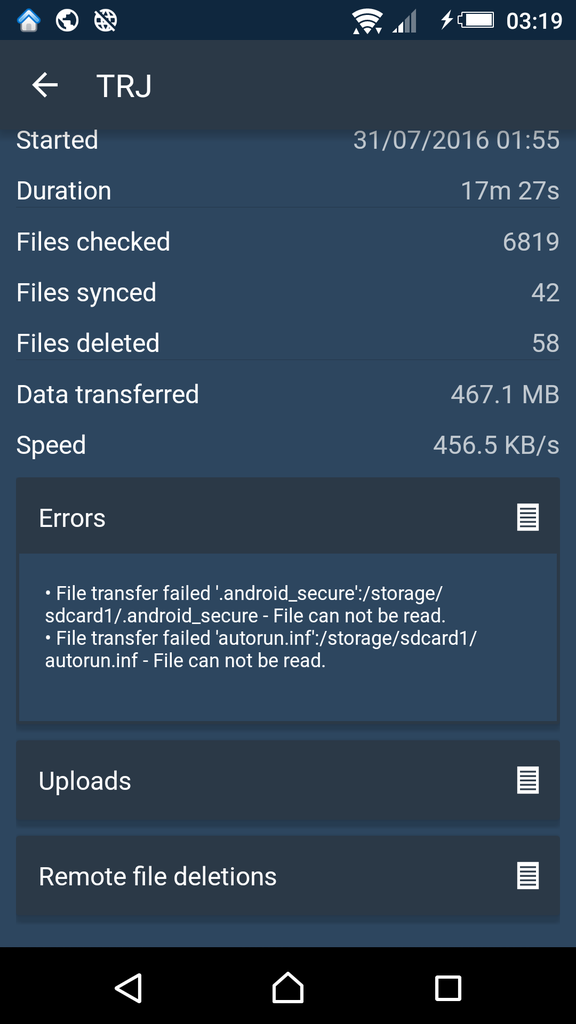 Videotutorial
Available english subtitles (CC)