Everybody knows the RSS syndications that allow us to be informed of any new article publishing pages we follow that have feeds service, myself follow a handful via mobile.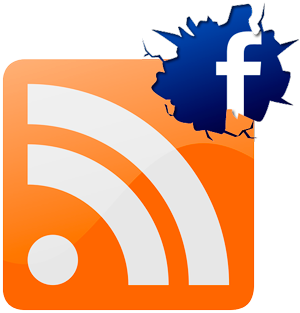 If you don't know yet which are, a brief summary is going to explain it:
"RSS (Rich Site Summary) uses a family of standard web feed formats to publish frequently updated information: blog entries, news headlines, audio, video. An RSS document includes full or summarized text, and metadata, like publishing date and author's name."
ikipedia: Full article
Create RSS
I think the process is quite simple considering what had to do before to download videos from RTVE.

Enter on any

page

(not users) for which we want to receive notifications. For example I use Gizmodo Spanish…one from random choice of those I follow, not because is the best one.
In browser go to "View source code", the abbreviated way for almost browsers is [Ctrl]+[U].
In source code begin the search for "profileid" and copy JUST numbers that coming behind (e.g.133444886539). With Opera the search is [Ctrl]+[F].

The

profileid

is the ID that Facebook use for identify of uniquely identify one profile within of social network, has been applied from its beginnings inside URL like

http://www.facebook.com/profile.php?id=133444886539

, even though today you can customize the URL like

http://www.facebook.com/gizmodoES

based upon this URL "ready 2 use":

 https://www.facebook.com/feeds/page.php?id=

*************

&format=rss20

where replace the asterisks with the numbers of profile ID that we have achieved: 133444886539.

With it would look like:

https://www.facebook.com/feeds/page.php?id=

133444886539

&format=rss20 

With final URL just remain type it into where we use to read RSS, I say 'so' generic because there are many ways to read RSS: RSS readers, browsers, apps, web services, e-mail readers, etc.