Libraries are an important part of Windows Explorer as you access them quickly to our documents, pictures, etc., classifying our files and differentiating them from the rest of content of HDD
After customizing the folders with new icons or third-party themes are some icons that aren't changed and which draw attention when you set desktop themes whose styling is very different from Windows: the libraries

Customize icons "at hard"
To begin, we need to enable the view of hidden files, is needed to work, then we need to go to this location:
C:\Users\(user name)\AppData\Roaming\Microsoft\Windows\Libraries
or using the Windows' variables:
%username%\AppData\Roaming\Microsoft\Windows\Libraries
or more summarized even:
%AppData%\Microsoft\Windows\Libraries
Will appear the libraries we've got. Open Notepad, both Notepad and Windows Explorer must be displayed at a time to make a drag-n-drop between them. Drag the library you want to edit inside of Notepad and will open the XML code that build up our library.
We have to change the path of library icon, for this seek the tag <iconreference>,
for example: <iconReference>imageres.dll,-1002</iconReference>
There, simply replace path with the our image, in this way, for example:
<iconReference>C:\Users\(user name)\Documents\CustomIcons\new-icon.ico</iconReference>
If it's a library created by us and not from the existing Windows will notice that entry doesn't exist, so we must add the line below
<isLibraryPinned>true</isLibraryPinned>
As a last step, if it shows the new icon(s) library(s), simply log out and log back in to the change be fully applied.
Customize icons with LibraryIconChanger
This program allows easily change the libraries icons, whether from Windows or created by us, may restore the default icons at any time.
Just one restriction: if are not a icons collection embedded in a DLL file -as shown by the program by default- must to be in. ICO format, no option to work with JPG or PNG. Once executed work with the program is very easy: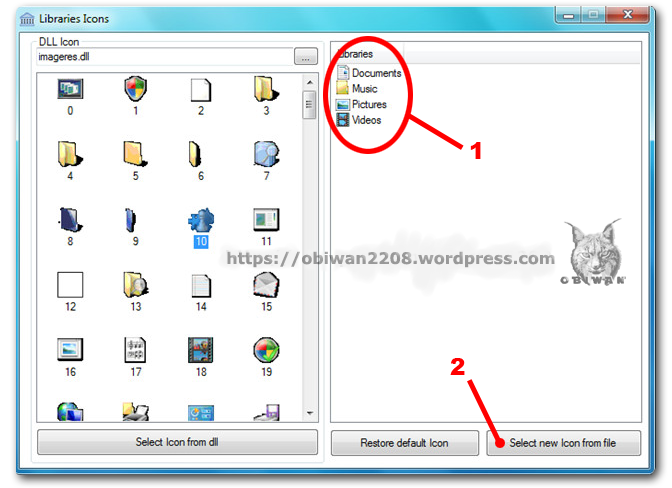 Select the library we want to change1.
Click on Select new icon from file2 and select the icon and select the icon you want to use.
Repeated as necessary

LibraryIconChanger
Download
Help for download?
Don't forget the icons should be .ICO format and preferably a big size (up to 256x256px) for when displayed the libraries as large icons.
A simple way to create your own icons from images is one of the many programs are available, converting them on-line through a site like
ConvertIcon
or can go directly to download them from
IconFinder
.
Before…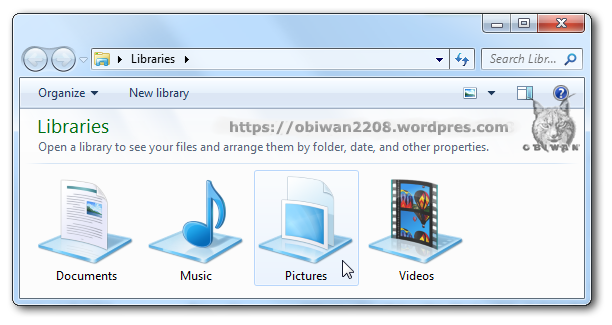 …After