Normally this title would not awake much interest because Windows provides this option, but the drawback has Windows in this regard is you can't change of place both folder and icon…and if have in mind pendrives or external HDDs, better not to speak.
So I want folders that can be personalized with their own icons (not Windows) and I haven't in mind to not move
folder or used icon because will lose the customization.
I got custom icons for folders perpetually, ie no matter where is folder the icon you put stays.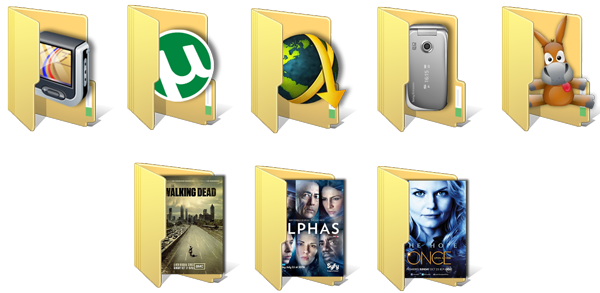 I make my own icons with a Photoshop template, but can also be download from any webpage.

To customize folders with icons these must have format of Windows icons with ICO extension with a maximum resolution of 256x256px.
The icon you want to use you place it into folder you want to customize.
Access to folder properties, tab Customizing. Click on Change Icon and select icon, accept everything and close.
On Windows Explorer, run command

Tools; Folder Options

, tab

View

.
We mark "Show hidden files, folders, and drives"1 and uncheck "Hide protected operating system files"2. With the latter is jumped a warning to must be answered, yes3.

Will appear the file

desktop.ini

inside folder, open it and we find something like this:

On absolute path of icon erase everything before of file name of icon. Close the notepad and save changes.
Access to properties of icon name and mark it as hidden.

Run again the command

Tools; Folder options

, "View" tab. And check "Hide hidden files, folders and drives".
Whereby we leave folder "empty" to fill up with files you want. This way you can move folder to anywhere and always still the custom icon.

Sometimes after doing all process icon is not displayed or else stay the same or as an empty folder (in case of folder with files inside).
To fix it there are two ways:
The first is erase all customization, for it cut from root by deleting

desktop.ini

and repeating the customization process.
If not work the best is create a new folder, make customizing, if contains files transfer them and delete the old folder.
VIDEOTUTORIAL