JDownloader is a good download manager for the many download servers (Mega, Rapidshare, DepositFiles, etc.) that allows us to automate downloads without having to be aware of waiting times or captchas. This program has the feature of saving the list of download links in a file with password option, the interesting point is once the container is saved – whether with or without a password – it's not possible to recover the original link.
This is important because allows us to keep our links safe without deleting our uploads and overthrowing our accounts by cause of copyrights, Sinde law, etc.
N.of transl. Sinde-Wërt law is another law like SOPA but applied in Spain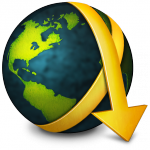 The first thing would be to have JDownloader -either installed or portable– and Java installed. The JDownloader boxes that I've in blog are as in picture.
The links will come in a box with its corresponding link, the password with which it's protected and a link that corresponds this help to download.



The download would proceed as follows:
Clicking on link of box, it will take us to a webpage where we'll have to type the password1, and click Open folder2.

Once you have typed the password correctly, will have only one download choice: Click'n'load4. Click there and automacally will load the container with the links.
This is by security.
The web option let see the original URL and the DLC containers are hackables even with password.