After using our POIs (or from others) in GPS may need to modify or update them. But as CSV or GPX are easily editable with any program, the GPI is a hard bone to gnaw.
For the needy or desperate can get a GPI file of Garmin and make it accessible and editable…but in moderation: has limitations.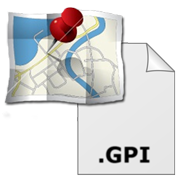 My personal opinion is that the GPI is intended as a "read only" format, because the GPI is like a package where are saved the POIs (GPX), alerts or guides (WAV, MP3), icons (BMP), and once packed is difficult to recover everything just as it's.
To take more awareness as much can help us this system, first the badly:
Can't edit GPI alerts from Cyclops.
Can't edit speedcams from Cyclops although you unlock them directly. It has some unknown tags that makes impossible the conversion.
Just recover basic POIs.
With basic I refer to can only recover the coordinates and name; address, city, notes, categories, symbols, etc, also audio and compiled icons will be lost.
Download programs
GPSBabel. It's a converter "Swiss Army Knife" for GPS, and help us move from GPI to GPX.

Extra POI Editor. Is an editor of POIs with which add, modify or remove POIs.
Conversion
Run GPSBabel.
At the inlet Input, the input format will be "Garmin Point of Interest (.gpi)" 1 and select the GPI file by clicking on File name2.
At the inlet Output, the output format will be "GPX XML"3 and select the GPX file by clicking on File name4.

Click on Apply to start the conversion and on Close to close program.
Edition
With a program to edit POIs -in my case Extra POI Editor- open the GPX file and have all the POIs to add, modify or delete what you want.
After editing the POIs only have to upload them back to GPS as GPI with POI Loader.
VIDEOTUTORIAL