When we carry with our GPS apart from updating the maps also need to update the speedcams. Speedcams are but waypoints with proximity alerts in which can include sound alerts we want, well as icons.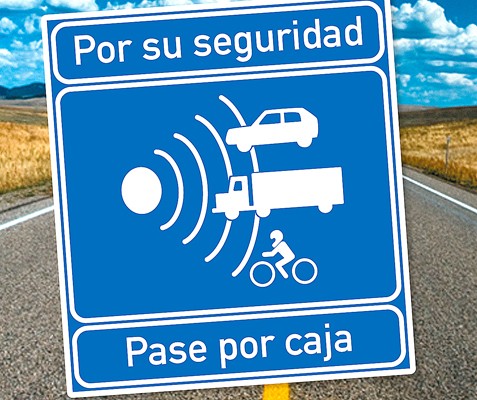 Transl. For your safety, pass to cash register.

Introduction
A list of speedcams would be composed of:
Locations of speedcams (GPX or CSV). As even Garmin hasn't exploded yet certain features of POIs with proximity alert, warning jump in both directions, although speedcam is in a single lane. For increase safety is preferable to set the speedcam alert by proximity instead of speed, because in a time you can make a sprint and plas! photo, however with proximity although you drive at 20Km/h you're already prevented.
Voice warnings (MP3 or WAV). These warning will replace the ding when there's a proximity alert could using any audio file.
Icons (BMP). Allows loading icons that show the positions of speedcam in map. Although usually show them smaller.
For my experience the sound warnings are very important because in the driving we're looking at the highway (not at GPS) which is why sound warnings can inform us of all (eg. "Attention, speedcam, limit 100") without looking at the GPS. Much better than the usual beep that forces you to look at the GPS to know which is the notice, with seriousness which is take your eyes off the road driving. This -for me- leaves the icons in a location purely anecdotal…but if present don't hurt anyone.
Download POI Loader
Download POI Loader from Garmin website and run setup. The installation don't give more troubles than usual "Next, next…".
Download speedcams
To download speedcams have TodoPOI.es this is totally free, and when I say "totally" I mean not to register or login into any site like is the tendency in forums. So we haven't to pay for Cyclops' speedcams, that aren't so updated and don't include "extras" as black points, hidden speedcams, alcohol controls, etc.
Go to page.
Click on "Descargar radares" (em>Download speedcams.
Click on "Descargar radares España" (Download Spain speedcams).
Select "Garmin/Magellan".
Select "Radares CON velocidad Garmin 2xx-12xx-13xx-14xx-2xxx-3xxx" (Speedcams WITH speed Garmin 2xx-12xx-13xx-14xx-2xxx-3xxx).

For whose have got the oldest devices chose the other choice according your models 3xx-5xx-6xx-Zümo-StreetPilot c550, 2720, 2820, 7200, 7500.

Extract the files. In one folder will be everything .CSV, MP3, and .BMP, and the other one will be the SOX.exe that will placed in the folder where we've installed POI Loader.
The SOX.exe file will ensure POI Loader will process
the warnings, no matter if they're in MP3 or WAV.
ATTENTION!
Although there are newer versions SOX.exe only works well with POI Loader up to 14.0.1 version.
If get errors the SOX.exe from Todo-POI here's the correct version: Mega or Official hotlink.
Load speedcams to GPS
Conect GPS to computer and power on.
When you see the GPS run POI Loader.
we choose the Garmin device option, and click on Next

Wait to POI Loader detect our GPS (takes 1-2 sec), and click on Next.

Set the 1st option, and click onNext. Only if we are sure that we have previously installed

ONLY

a previous speedcams can choose the second option.

We seek the folder where you have saved the speedcams (and if applicable, voice warnings and icons). We give a name to file with care to not use spaces or 'strange' symbols. And in options choose Meters and Km/h, and Manual.

In all speedcams that want to include mark them as "This file contains proximity alerts" and specify a distance warning to which should to warn us. If there is a category that we don't want to include in our speedcams will check "Do you want ignore this file?" and POIs contained in that file stay outside our compilation of speedcam.


Here are some recommended distances on some websites for alerts, but as it all depends on taste, and if we want to modify some distance just have to recompile speedcams with the new distances.

| | |
| --- | --- |
| Speedcams category | Alert distance |
| Camouflaged of 30 | 200 meters |
| Fixed and Camouflaged of 40 | 250 meters |
| Fixed and Camouflaged of 50 | 375 meters |
| Fixed and Camouflaged of 60 | 450 meters |
| Fixed and Camouflaged of 70 | 525 meters |
| Fixed and Camouflaged of 80 | 600 meters |
| Fixed and Camouflaged of 90 | 675 meters |
| Fixed and Camouflaged of 100 | 750 meters |
| Fixed and Camouflaged of 120 | 900 meters |
| Traffic light | 375 meters |
| Tram and doubtful | 750 meters |

After processing all categories of speedcams compile the speedcams on GPI format and transfer it to GPS. The GPI file will be saved in POI folder of GPS. The speedcams will be in "

Where to, Extras, Custom POIs

" sorted by the categories of speedcams.

In some GPS models can disable the warnings for speedcams included on Garmin cartography. This duplication can be avoided as double warnings, one for speedcams of cartography and other the speedcams that we'll load.
For the more handymen can create his own warnings with some TTS program, adjusting the volume and leaving a space in silence to the warnings are not repeating too much in a short space of time:
Create voices for speedcam warnings on GPS Garmin
VIDEOTUTORIAL