Here is the challenge of a task: update the maps of an old GPS, a LG LN500. The thing seem to be going badly because to take the project I found faults with everything:
Is an antique GPS, VERY ANTIQUE…
LG discontinued ALL support of their line of GPS, so no updates (software, maps, etc).
The official website of LG the LN500 is listed under "TV/Audio/Video: Video" without pics and only manuals.
Maps have a proprietary format, so can't convert from another format (eg OpenStreetMap).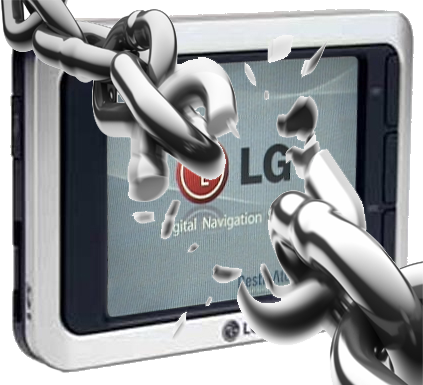 As I've got the 3670T and 1300 I know the Garmin's world (maps, radar, POIs, unblocking…) and in forums say the Garmin maps are updated more frequently than Tom-Tom or IGO, so I start to work with it. The manuals for Garmin are more scarce than Tom-Tom or IGO, for example, and even more seek them specifically for Windows CE.
but finally…I did it.

Jailbreak LN500 is the easiest thing in the world, hard is install the GPS software and everything works right.
First is download two programs:

ActiveSync that allows the GPS is visible to the computer.
CeRegEditor to access the Windows CE registry.

ActiveSync and CE Registry Editor

Download Help for download?

The trammels of Microsoft cause ActiveSync can be run only with Windows XP, above from Windows Vista delegate their task in "Windows Mobile Device Center" and doesn't detect Windows CE. So you have to get an XP-in my case a disused laptop-but there are other options such as install a virtual machine (eg. VMware Workstation:

Verified!).

In some italian forums

Smartione

is using to access the WinCE registry, I haven't tried it, but I leave this, as additional info.

Install both programs: ActiveSync and CeRegEditor. ActiveSync requires a reboot, but will do after installing CeRegEditor.
ActiveSync setup is very simple, CeRegEditor despite scare us their strange characters (is polish) chose the English setup and at end chose not run CeRegEditor after installation, so we can restart to apply changes at ActiveSync.

After restarting computer, turn on the GPS and connect to computer using the USB cable. The computer will detect it and ActiveSync jump at 1st plane, but as still need to configure it, will appear a wizard.
We say YES want to create an association, the rest of process is just click Next until the wizard closes, and finally make us a hint of synchronization.
Run CeRegEditor and press F1 (command File; Connect).
Modify the following keys:


| | |
| --- | --- |
| Path string to modify | Value |
| HKLM\Init\Launch92 | explorer.exe |
| HKLM\SOFTWARE\Microsoft\Shell\AutoHide | 0 |
| HKLM\SOFTWARE\Microsoft\Shell\OnTop | 0 |

To keep the programs we install and we lose the changes when the GPS is switched off completely (or restart) modify the keys HKLM\System\Explorer\ShellFolder for target them to ResidentFlash, which is where you can save data. To do this we modify the keys:

The files must be copied (NOT MOVE!) so that in case of problems you can make a hard-reset and start again. The modifications made on files aren't restored with a hard-reset.

| | |
| --- | --- |
| Original variable | Modified variable |
| \Application Data | \ResidentFlash\Application Data |
| \Windows\Desktop | \ResidentFlash\Desktop |
| \Windows\Favorites | \ResidentFlash\Favorites |
| \Windows\Fonts | \ResidentFlash\Fonts |
| \My documents | \ResidentFlash\My documents |
| \Program files | \ResidentFlash\Program files |
| \Windows\Programs | \ResidentFlash\Programs |
| \Windows\Recent | \ResidentFlash\Recent |
| \Windows\StartUp | \ResidentFlash\StartUp |

To be effective the changes in the modified keys of ShellFolder copy the following folders to ResidentFlash:


\Windows\Program
\Windows\Desktop
\Windows\Favorites
\Windows\StartUp
\Windows\Fonts
\Windows\Recent
\My documents
\Application data
\Program file

Once done this you can restart the GPS unit by pressing the hole at base of GPS.


Although already have the Windows CE desktop, there are still some details to polish.

For run Garmin XT and other programs can be displayed in a different language of english have to click on

My device; Control Panel; Regional Settings

, on tab "Regional settings "select your language. Because Windows CE is made ​​for slightly larger resolutions (PDA's) have to move the window to the left until reaching the top right that is where the OK button.
In Date/Time check the date, time zone and time.
With that we would have the LN500 jailbroken and ready to load the GPS software you want.
VIDEOTUTORIAL HD