This program is a mini-browser with which you play the video and automatically detects the URL enabling to download with one click, allows you to view the title, real URL, duration, resolution.
Allows download from HTTP, RTMP, RTMPT, RTMPE and RTMPTE, and your download manager allows you to view file name, size, progress, estimated time, etc..And among the actions you can do are: play, locate the file, pause download…

I do emphasize in
mini-browser
because it hasn't all implementations and features of a browser, so it does not work always. StreamTransport long ago that hasn't been update so how much more media, flash, HTML5, plugins, etc., more likely are for not working.
Run StreamTransport.

May be necessary to make an lift of privileges to successfully run the program (

Run as Admin…

).

Fill the URL1 of site from you want to download video y click on Start2; you can surfing through the pages like a normal browser.
When you've got the video, play it as usually and automacally appear below the video details.
Only is needed select the video3 and click on "Download"4 to download, the video is downloaded by default in "My Documents". In the videos with ads must wait to pass the ads for not download the ads, the last reference of video will be the video you want to get.

You can change the default location by editing the

setting.ini

file placed in "My Documents\StreamTransport", only have to modify the path in section

LastPath

and section

UseLastPath

to

1

.

To always ask to you location to save, have to change the value of UseLastPath to 0.

To save in another location you must check the Change folder box 5 before clicking on Download, then you have to choose the folder where want to download and rename it if you want.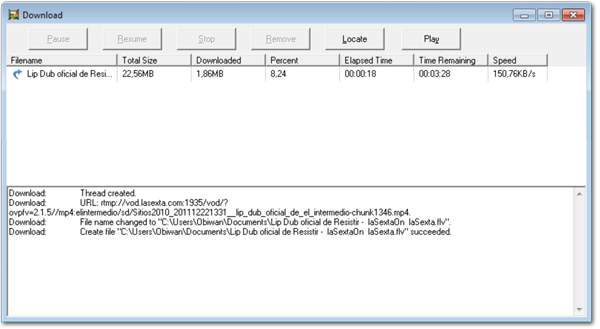 Once is started the download of file, this can stop, pause and resume. And once the download is complete we can play the video or locate where it is saved.
VIDEOTUTORIAL
Descargar StreamTransport
Guía StreamTransport (ingles)
The domain seems to have changed hands since there is now a rough login and the server certificates aren't correct.