Many Windows users are complaining about the many resources used by iTunes, this is demonstrated in computers with the fair resources. This is a waste because several features will not use them if we haven't got any Apple products (iPod, iPhone and iPad) and Bonjour services or synchronization of iPod, iPhone or iPad. Or functions as Genius, Remote, Airplay…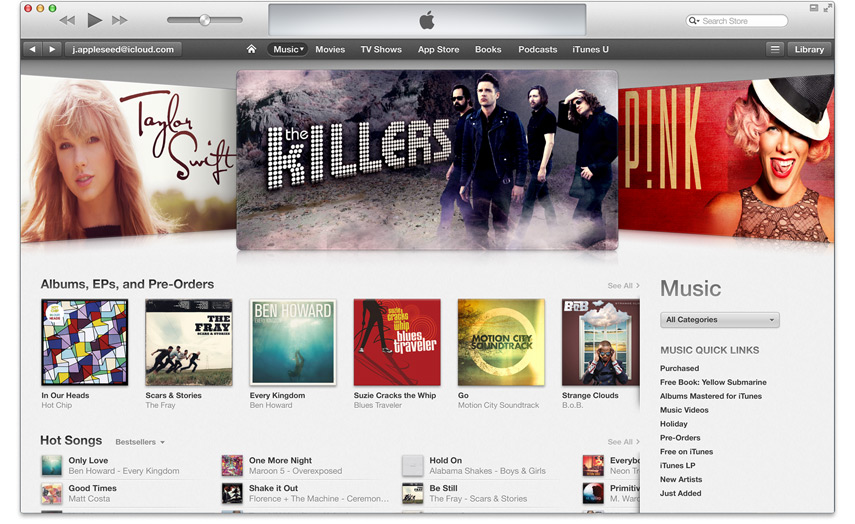 Apart of requirements of iTunes is also
necessary to have installed WinRAR
or a program that can open self-extracting SFX files, without this cant make the lightness installation, since we have to unpack the setup program for can discard the installations that don't serve us, especially for Windows users who don't have got an iPod, iPhone or iPad.
Setup
Go to Apple site http://www.apple.com/itunes/download. Check the requirements of iTunes for our computer.
Click on "Download now". Now the page detects and selects the installer for 64bits.
Extract the installation files (req. WinRAR or similar installed) with right-click the downloaded file selecting "Extract files to \directory".
Create shorcuts for: Apple Application Support, iTunes and QuickTime.
Add suffix "

/passive

" at the three two shortcuts for unattended installations.

Execute the shortcuts in following order:

Apple Application Support
QuickTime
iTunes

To prevent an accidental activation, rename the iPod Service. Locate the file "iPodService.exe"in

C:\Program Files\iPod\bin

and rename it otherwise, for example, "iPodService_.exe".
Type the key combination +R to get "Run" window, type "services.msc"and press enter.

Between services list that are available on computer, and looking for: "Service of iPod".
Double-click to edit.
Stop service1 and change the startup way from "Manual"2 to "Disabled".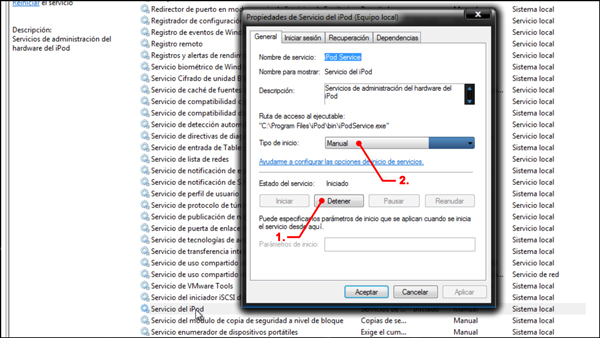 Config iTunes
Run iTunes
Accept the EULA
By discarding various installations iTunes will give us a little tin, these warnings are:

To fix AppleMobileDeviceSupport, will mark "Do not show again" and say NO.
For Bonjour be only a notice that's disabled.

Once iTunes was started, execute the command "Edit; Preferences" (Ctrl+,).
In "General" uncheck the box "Check new software updates automatically".
In "Devices" check the box "Prevent iPods, iPhones and iPads from syncing automatically".

And already have iTunes a more lighter of resources to play our music.
To update iTunes would follow the same process, preventing iTunes be updated another way, because will activate and install missing things we have removed.
VIDEOTUTORIAL