Windows themes are a collection of customizations that give a distinctive touch to your desktop from any other, these themes are composited of: the wallpaper(s), window color, sounds and screensaver. And if we've got default config the themes can also change the desktop icons and mouse pointers.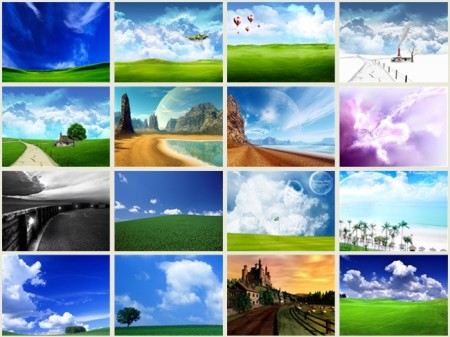 Official themes(Microsoft)
For official themes just have to go to Microsoft site download and run the file to automatically have the theme applied with wallpaper, window color, sounds and icons that contains this.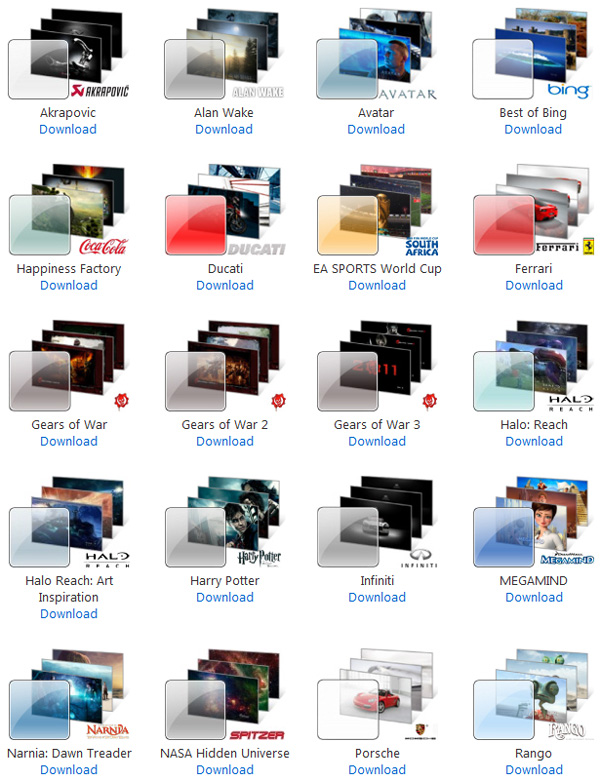 Unofficial themes
Microsoft to maintain control over his operating system digitally signs his themes, which are validated before installation or startup, due to this limitation can be installed only a few themes published by Microsoft on his site.In order to install themes no-signed by Microsoft is necessary to apply patches to several files and eliminate the checking and so install lots of themes that users distribute freely over the network.
The easiest is to use Universal Theme Patcher to patch the necessary files, you just have to run with Admin privileges and click-on three buttons "Patch" and close program.

Universal Theme Patcher (x84-x64)
Download
Help for download?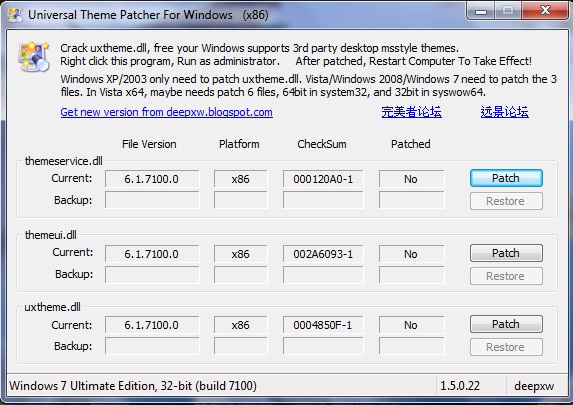 The unofficial themes usually come with instructions for installation, most just have to unzip in C:\WINDOWS\Resources\Themes directory and then in the section Customizing of Control Panel choose the theme you just installed.
Create themes
Go to Personalization: Start Menu; Control panel; Appearance and Personalization; Change theme.
According to our likes will change one or more elements:

Wallpaper. You can use a single image or a slideshow (various images in rotation) as desktop wallpaper. Use your own images or choose from the pics that come with Windows, you can also change the time of rotation of images and if you want these to be random.


To choose pics you can go to the directory of these, select those that want to use and finally click on Save Changes.

Windows color. To change the color of borders of windows, taskbar and Start menu, you have to click on Window Color, select color you want to use, adjust opacity of color, intensity of color and finally click on Save Changes.
Sounds. To change the sounds for Windows events click on Sounds, select one of listed elements of combinations of sounds and click OK. Or select a specific event and define his sound and save the new combination of sounds.
Screensaver. To set or change a screensaver, click-on Screen Saver, select the screen saver you want, and then click OK.

New theme will appear in My themes as a unsaved theme. To save select the unsaved theme, right click select Save theme and give him a name, so you can return to him at any time if you change theme by other.
Share themes
Go to: Start menu; Control panel; Appearance and Personalization; Change theme.
Select the theme you want to share with right mouse button click on Save theme for sharing and give a name to theme.


By default, Windows saves theme in My Documents folder as .themepack file.
The users of Windows 7 Starter or Home Basic can't open or use the created themes by limitations of their Windows' versions.