For those who are tired of Windows we always receive with same face or want to set it more tune with any theme that we have installed we can change the logon screen in two ways:
Through a program.
Modifying the Windows registry.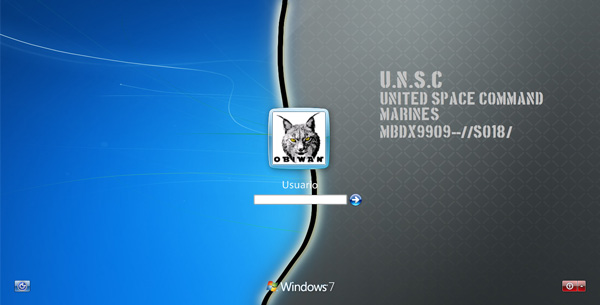 Program
Using a program is the easiest method, just run with administrator privileges and choose the image we want to put. I've chosen two that don't need to install so the times we'll change the logon screen is not worth installing a program. These programs are:
| | |
| --- | --- |
| | |
| Tweaks.com Logon Changer | Windows 7 Account Screen Editor |
Both allow to change background of logon screen with any image you want and restore this by Windows default background, try the resulting image blocking the session so we've to fill password as if we start the session in normal way.
The only difference is that Windows 7 Account Screen Editor has more options as changing normal/advanced mode, change image quality, adjust shadows and transparencies, including a message at starting session and an editor language to adapt to ours. Also shows our account image and user name…in return the program requires run with admin privileges.

Windows 7 Account Screen Editor
Download
Help for download?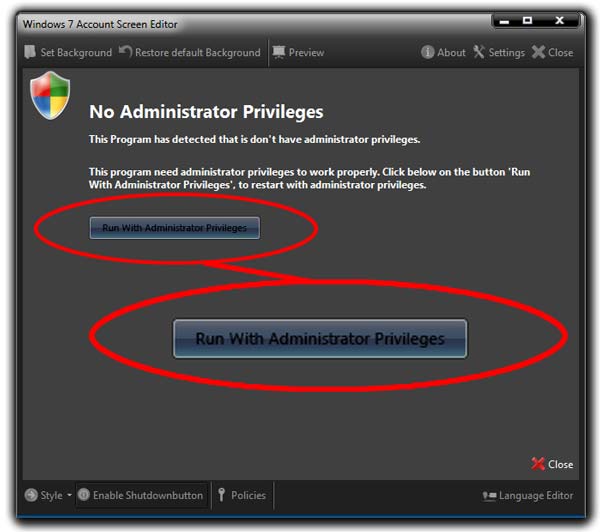 Registry
The first is access the registry directly instead of getting us into a mess with Start Menu.
Make the keys combination +R, type "regedit" and press enter.
UAC will ask us permission for the windows registry to make changes in computer and will allow him. Once you have done will run the Windows registry.

We move through the registry to go to the following key:
HKLM\Software\Microsoft\Windows\CurrentVersion\Authentication\LogonUI\Background.
In the OEMBackground string change the value to 1. If this string doesn't exist create it as a DWord string.

In the directory %windir%\System32\oobe we create subdirectories info and backgrounds. So the final path would %windir%\System32\oobe\info\backgrounds.
Now put image we will use in logon screen inside directory under the name of backgroundDefault.jpg.If the image resolution does not match the screen is stretched to fill entire screen.
For view our logon screen we have only to press +L, to block our session until typing our password.
If we've got the same image with several resolutions can include them with the following file names depending on their resolution:

background768×1280.jpg (0.6)
background900×1440.jpg (0.625)
background960×1280.jpg (0.75)
background1024×1280.jpg (0.8)
background1280×1024.jpg (1.25)
background1024×768.jpg (1.33-)
background1280×960.jpg (1.33-)
background1600×1200.jpg (1.33-)
background1440×900.jpg (1.6)
background1920×1200.jpg (1.6)
background1280×768.jpg (1.66-)
background1360×768.jpg (1.770833-)
Notice. Images used may not exceed 256kb in size.
You can also specify if you want shadows and opacity level of buttons, it will depend on the type of image you will use, if the image has got bright colors should use shadows, otherwise, if are dark colors should use without shadows and opaque buttons.
In the Windows Registry go to key:
HKLM\Software\Microsoft\Windows\CurrentVersion\Authentication\LogonUI.
If doesn't exist, create the string DWORD ButtonSet to assign a value depending on the effect we want to get:

Value 0: Light shadow and semitransparent buttoms
Value 1: Dark shadow and transparent buttoms
Value 2: No shadows and opaque buttoms.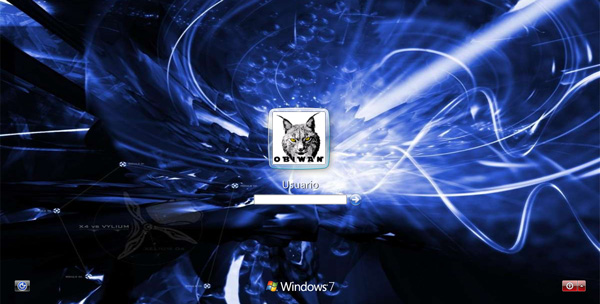 I hope you have served