Xmas 2010: Garmin sponsoring a contest "Mission 3700" in which through www.mision3700garmin.es, participants uploaded a photo with is elaborated a video with Jorge Lorenzo and "us", with a very direct style of "Mission impossible" accessible through a URL. Participants win a Garmin Nüvi 1300, 15 for more videos played and 15 among all others.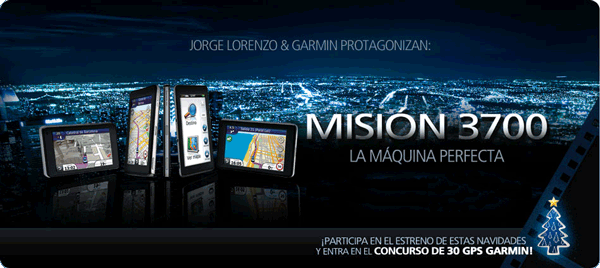 I participated appealing to you for win one of 30 GPS…hey, if pass: pass, if it's free ¿why not?.

Well…I WON!!!

, I wanted you participate because without you and my friends not has been possible. I received it just afternoon, but I already knew I had won from wednesday when was published the winners list on official Garmin website in Facebook, but now that I've received is…REAL!
Garmin has been sent GPS through Seur to my own home, has sent in an elegant navy blue hard box within which was the 1300 with your box and blister. Although I had gained at parents-in-law from them I will cede the 1300 to parents-in-law for their holidays and trips, as you know already I have got the 3760T and with one is enough not we must be selfish.

Now I'm uploading a car like my parents-in-law to display on screen and a bit of POIs to begin, tomorrow I'll explain them the GPS operation while I register it for them in Garmin.
I leave some pictures from 1300 just received it.