| | |
| --- | --- |
| This little guide is to install WMP11 on Windows XP (W7 already has got WMP12) and this isn't validated as original Windows…for whatever reason. | |
Although is a old post and I published it two years ago in another forum I think should be here with rest of manuals.
The first is download WMP11 either from Microsoft, software servers (as CNet) or from version I got from my MP4 Sony.
La descarga deja de estar en linea ya que es un post antiguo y las descargas han sido trasladadas a Telegram. Si necesitáis los archivos pedidlo abajo en los comentarios de este mismo post o en TW a @Obiwan2208BLOG.
Once downloaded you have to access files content into .EXE, opening directly with WinRAR or extracting it with right botom.
This is because it's a SFX file with compressed setup files as we would with WinRAR to create a self-extracting.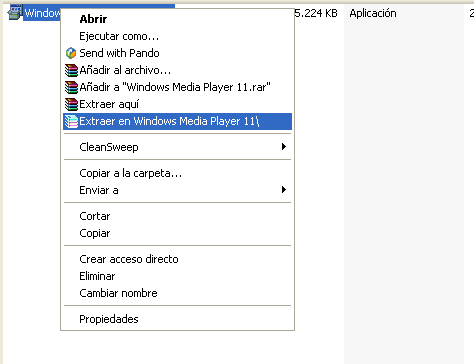 With extracted files have to execute all executables with two basic rules:
setup_wmp.exe file no touch under any circumstance, is base program on which execute the rest of executables, but first verify if we've got an original Windows (or passes validation).
wmp11.exe file ALWAYS be executed last. In picture I placed the sequence you can follow to run the installers, are "previous" installations of elements that WMP needs to run.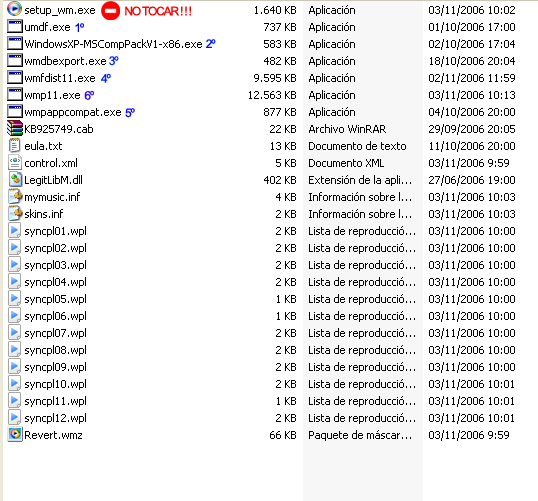 Once this is done if an executable has asked us restart computer we'll restart after executed all and we've got WMP11 installed and running.