After creating virtual machine is the most crucial step: the installation of the OS and restart to put the final fringe before seeing the desktop.
This step decide everything because a failure on any and we can not enjoy our Mac.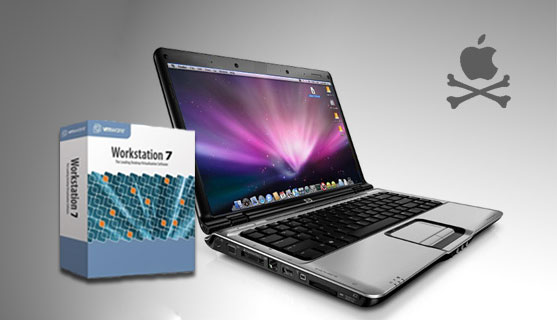 Instalation
In theory would have to change the boot order in the BIOS, as the HDD boot before the DVD drive. It's optional because the HDD is empty and will pass to the next item: DVD drive.
For those who want to do there's an efficient way to access the BIOS without pressing keys like crazy: use the command VM; Power; Power On to BIOS; this boot the VM that automatically goes to BIOS and from there change the boot order.
Go to Boot with the cursors and then to CD-ROM drive, press [+] and [-] to set CD-ROM Drive before than Hard Drive. Go to Exit and as be selected Exit saving changes press [enter] and confirm by pressing it again.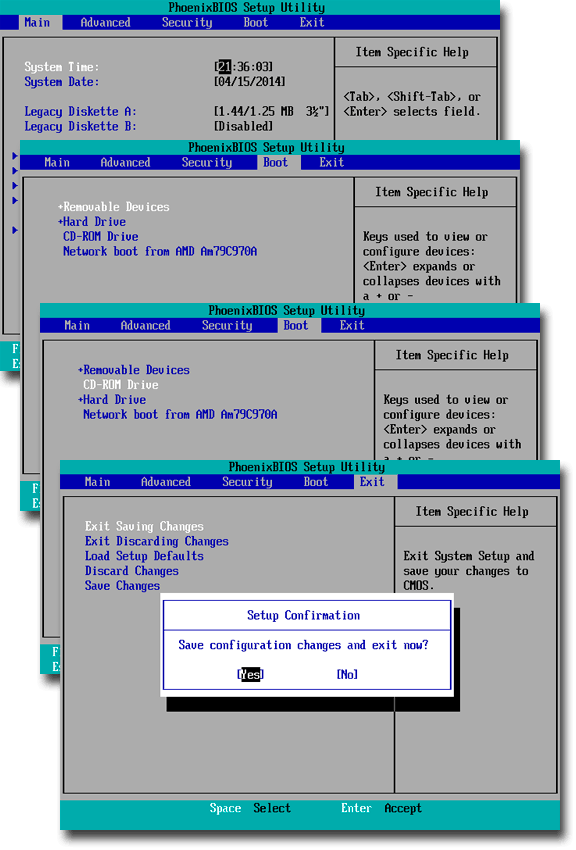 At power on of virtual machine (with ISO image loaded) have to press F8 before 5 seconds in boot options, if is highlighted hd (##,#) iDeneb v1.3 10.5.5 is right and just type -v and enter. But if is appears hs (##,#) Ethernet PXE Client you spent time and you have to shutdown/start or restart the virtual machine.
| | |
| --- | --- |
| | |
| On this screen you have to press [F8] before 5 seconds | After just type –v and [enter] |
After this the screen will fill with linux style commands that if all went well will pass to graphical installer, if not we must look at error messages therefore we have been introduced -v before.
The first steps are simples: language, a splash screen and EULA.
After this preamble we have to specify where install Leopard, but we will find it empty because virtual hard disk has not yet been formatted, for that we must launch the "Disk Utility" with the option Menu Utilities. In "Disk Utility" can be seen on left side we have got a vague reference to hard drive, in my case "VMware Virtual IDE 20Gb Hard Disk", click on it to work with, click on "Erase" section and fill the label name of hard drive, click on "Erase" and confirm again in "Erase" after which will start to make a quick format to virtual hard disk.
If we can verify if disk is correctly formatted click on "First Aid" section and then "Check Disk", the last message you must to see is "The volume ####### appears to be OK" after which close "Disk Utility" by clicking on red button on top left will bring up again in first plane the installation program.
Now we will see the hard drive with the label you filled before, select it and press to "Continue" and then "Customize." Here we must take a break because here you can throw away the installation by selecting wrong options. For my computer these are:
Idiomas disponibles:

Español

Audio:

AC'97

Chipset:

VIA-SB

Kernel:

Kernel 9.2.2 SSE3

Idiomas disponibles:

Español

Audio:

AC'97

Chipset:

VIA-SB

Kernel:

Kernel 9.4.0 StageXNU

Fix:

ACPI-Fix y IOUSBFamilyFix
In Fix can select some options to solve some problems, Network and Video nothing is selected because we use network resources of real machine as well as video card. As option gives an added installation of some programs such as Firefox, Skype, VLC…a taste of consumer, but where is Opera… 😀
The options may change depending on the machine that have got everyone, especially AMD that have more problems and so there are some specific options for them.
Confirm installation options with "OK" and the installation will start with "Install", although can do a verification of integrity of the DVD (setup disk) is possible omit it to save time and start copying files, after which and a few minutes we will have to restart, but with CAUTION of change the ISO image to the physical drive to boot from hard drive now that we've done installation.
First boot
At restart again the virtual machine will appears a screen as at begin the installation, can also be applied the 5 seconds and F8 with the -v in case we get some error when boot on the virtual machine with installation done…has happened to me with some distribution.
After some image changes should get screen for choose our country, but if is not in the list must click in Show all, find and select yours and then click "Continue" . Now ask us about our keyboard layout, as before you have to choose yours.
Next step is the Windows equivalent of "Wizard for transfer files and settings", assuming that everybody come from Windows marks the last option: Do not transfer my information now. Apple ID with the same thing, only applicable if you use iTunes, iPhoto and Apple Store, so that if we have not got it without do nothing click on "Continue".
Registration information must be completed by nu…emmm…obligation, all except paragraphs Company or school and Email address although not necessary that data are real 😛
The next step is to know where and the main use of the computer, you can uncheck the checkbox below because is for receive offers, promotions, etc..
In "Create your account" you have to get a little serious because is for create the user account, Name is the full name, Short name is the OS will work to refer to your account, so is applied the common rules: no spaces, only letters and numbers, etc, with Password and Verify do not need explanations , no?, Password hint is like the key question to remember the password. After this will create the account, set clock…and a pay service that as before mark last option.
After this will appears a windows giving us thanks by have got a Macintosh by the face, clicking on "Go" we'll enter password of the account, will appears Mac desktop with the iDeneb word and will open a Finder window in equivalent location of "My Computer", of course you can change desktop to match the Leopard, but each everyone with closed doors…
Here are the keyboard equivalents for Windows users.
| | |
| --- | --- |
| Macintosh keys | Windows keys |
| Command | Alt |
| Option | |
| Control | Control |
I've located VMware Tools adapted for Mac, as minimal adapts resolutions at fullscreen and I think something more.
VMware Tool for Mac
Ask to reupload file
I hope you have served.
For more technical questions you can go to Insanely Mac stuff who are more involved in the issue than a server.
WALLPAPERS
| | |
| --- | --- |
| | I leave you a wallpaper with a clean design and is finest for the virtual machine. |
| | Or the Snow Leopard wallpaper par excellence… |
VIDEOTUTORIAL