I have always considered the choice of Macintosh as something distant, a dream…very expensive!

, until I came across a term that had never heard before: Hackintosh. Since then I approached to it for try it, though by precaution I tried to do it with a virtual machine to avoid making bloomers and continue working with my XP as usual without headaches with the partitions and rewrite the MBR…now after several months trying I have achieved.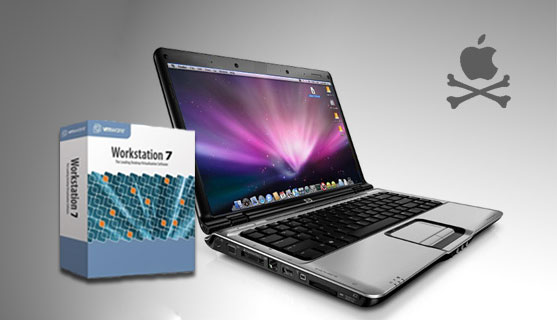 Definition
Hackintosh. Is any machine not manufactured by Apple able to run, without the consent this, the operating system for Macintosh computers: Mac OS. A Hackintosh is a Mac clone, but not all Mac's clones are Hackintosh because Apple until 1997 allowed the installation of his system in this type of machines. Initially, they were independent users who installed it on their computers. It was called Hackintosh to PC that is running Mac OS X using the OSx86 project's hacks because the only way to get this was hacking the system. Today, there are new methods for the same purpose and meaning of this word has spread as we know it today.
VMware. It's a system virtualization by software. A virtual system by software is a program that simulates a physical system (a computer, a hardware) with a certain hardware features. When you run the program (simulator) provides a similar execution environment for all purposes to a physical computer (except in the pure physical access to the simulated hardware), CPU (may be more than one), BIOS, graphics card, RAM, network card, sound system, USB, hard drive (can be more than one), etc.
Source:
ikipedia
Create a virtual maquine
Once installed VMware Workstation is executed and from "Home" tab you have to click on New Virtual Machine to start to "build" the virtual machine using a wizard.
In this first step he asks us the kind of complexity we want for design the virtual machine, choose Custom (advanced) for a custom configuration.
Hardware Compatibility. Not change anything since it's the most optimal.
Setup disk. Here activate the Installer disc image file (ISO) box and we seek on hard disk the ISO image of the iDeneb distribution, though you note that is warning that the disk does not contain any operating system, ignore the message because VMware has not support for Macintosh systems and therefore can not detect it.

Ask to reupload file.

Operating System. Although it does not matter what you put, pick Other and in Version "FreeBSD".
Computer name. The first field is to give it a name by which you will identify your machine, the second field is to put the path where will save the virtual machine's files (RAM, hardware config, hard disk, etc) must assure you have enough space because when the installation is completed takes 6-7 GB minimum, apart then you install more programs after installation.
Number of processors. Depends on your real machine has got, though I have a "quad-core" I put just one.
Memory. By default is set the recommended memory for machine, but you can always increase to the maximum (blue triangle).

Networks. Here we define the connection type you will use on virtual machine, to avoid walking with IPs and virtual adapters, we will use the resources of real machine with a bridged networking option to use network adapter of phisical machine.
I/O Adapters. Leave the default option: LSI Logic, the recomended.
Hard disk. Will create a virtual hard disk with Create a new virtual disk.
Kind of hard disk. Here you can choose between the two.
Hard disk space. The program makes a recommendation to us of 8Gb but it depends on "how much" and "what" you go to put. The Allocate all disk space now option is for reserve and occupy the space is assigned to the virtual hard disk, says that increases performance but unless you have a lot of hard drive space is unchecked and according you use more space on virtual hard disk is more used on the physical hard disk. The two options below depend on the format of your hard disk if is in NTSC or FAT, if is first choose Store as a single virtual disk file if not but you must choose the second option for split your hard disk on 2Gb fragments by limitations of the FAT.
Hard disk file. Is the file name that get the virtual hard disk: no change.
Summary. Here is summarized all options that we have chosen. To avoid any conflict if we do not have got a floppy drive is better to remove it, for it click on Customize Hardware, select Floppy drive and click "Remove" and "OK".
Is show us the summary again without the floppy drive, with the option Power on this virtual machine after-creation the virtual machine will boot directly when you press "Finish".
Next post: