What's about?…
Windows Flip 3D allow you to find the window you want. Pressing
+TAB Windows Flip 3D dynamically displays all opened windows on your desktop in a 3D stacked view. In this view you can scroll through opened windows to find the one you want. Windows Flip 3D can show live processes such as, for example, video playback. You can also use the arrow keys or the scroll wheel to scroll through opened windows and easily select the one you need. (Microsoft)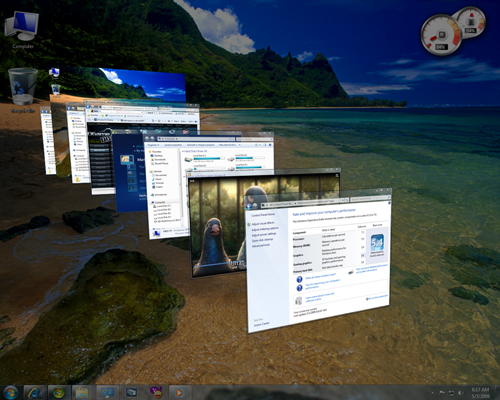 Summary
In a nutshell is one of the most spectacular features of Windows' Aero interface: Windows Flip 3D. This was introduced with Windows Vista, but on Windows 7 is disabled so that users coming from Windows XP (like me) who were fascinated with the videos of visual presentations leaves you feeling that pulled you the leg…it seems that the Microsoft's guys left a few "Easter eggs", but only in Windows 7 editions: Home Premium, Business, Ultimate and Enterprise.
Activation
To activate it you just have to execute a command and will be activated immediately without having to do anything else.
You must go to Start Menu; Run… or press
+R, type rundll32.exe DwmApi #105 and press enter, nothing more…now you can enjoy Windows 3D Flip, scroll through the windows, with keys, mouse, etc..