Introduction
Windows has an unexpected limitation is that the Bluetooth stack was designed to have only one Bluetooth device (transmitter, receiver or both), at a time. This in practice make two problems:

Desktop computer . Have a wireless keyboard/mouse and want use an USB Bluetooth adapter for transfer things to mobile.
Laptop. The laptop has integrated Bluetooth and want use a wireless keyboard/mouse.
These two situations are the same problem: we have a receiver/transmitter and want to install another Bluetooth device, can install both, but have to choose which handle the Bluetooth stack.

Bluetooth stack
A Bluetooth stack is an application that manages all Bluetooth services. Bluetooth stacks can be divided into two: general purpose implementations
written with emphasis on the breadth of features and flexibility, usually for personal computers. You can add support for specific Bluetooth profiles through drivers.
Embedded system implementations intended for use in devices where resources are limited and demands is lower, such as Bluetooth peripherals devices.
In general, only can be used a stack at time. The changes often require uninstalling the previous stack, although a trace of used stacks in the past remains in the registry.
Source:
ikipedia
Development
My case was the first so my computer has a Logitech wireless keyboard/mouse with has been fine even without installing his respective software, but ultimately for comfort of custom keys have yielded, everything worked fine for me at the thousand wonders until I plug a USB Bluetooth adapter for transfer files to (or from) mobile.
The set of keyboard and mouse is a Logitech MX5000 Laser and the USB Bluetooth adapter is a Belkin F8T013.
LCD display of dot matrix with resolution of 102 x 42 pixels (LCD supports Western characters only)
Instant response area with two strips and seven controls with backlit MX Laser Engine™ with 800 dpi and image processing of 5.8 megapixels
Mouse with Li-ion batteries and Fast-charging Station (MX1000)
Bluetooth 2.0 with data transfer rate improved
Compatibility with Bluetooth stacks Widcomm BTW 5.0 and Microsoft XP SP2
Bluetooth Profiles: Audio Gateway, AV, Basic Imaging, Dial-up Network, File Transfer, Hard Cable Replacement, Headset, Human Interface Device, Local Area Network, Object Exchange, Serial Port, Synch.

Backed by a lifetime warranty from manufacturer
Works with compatible devices with Bluetooth v1.1, 1.2, and 2.0
Installs easily with comfort of Plug-and-Play USB 2.0
Quick plug (3.5-5 seconds)
Compatible with VoIP profile
Includes free software for mobile management for contacts and text messages
The last case is the laptop with integrated Bluetooth and adding another Bluetooth device to use the wireless keyboard/mouse, in this case laptop ignores the integrated Bluetooth device and want to use Logitech's receiver, so that his ability manage profiles shall be reduced to one: HID (Human Interface Device), or keyboard and mouse.
Problem
With keyboard/mouse only is using one device, but despite being a Bluetooth receiver and allow enough Bluetooth profiles you can not interact beyond the keyboard and mouse …already checked, somehow is "castrated" and is not important that the control has it Windows or Logitech software, but the keyboard and mouse works perfectly.
Now the problem comes when you plug USB Bluetooth adapter, as only we can use just one Bluetooth device, this is keyboard/mouse receiver and Belkin adapter.
It would be logical use the USB adapter and will allow us to use Bluetooth profiles that want to work with the mobile, but has the disadvantage that we can not use use the keyboard and mouse until Windows has loaded. So if we have to handle BIOS, choose OS, Windows boot options…is for just forget it. And if we choose the keyboard/mouse receiver I remind you that we can only work with keyboard and mouse.
It comes down to one word: CORNERED, it does not matter as you do, install, uninstall, options used…will always be the same.
Solution
I found the solution searching topics about conflicts between Bluetooth devices, buried in folders of 132 topics, since not Logitech or Belkin gave me solution.
The problem is the Windows' Bluetooth stack that has some "limitations" so not leave the receiver keyboard/mouse has no more profiles than HID (Human Interface Device), which only we can use the keyboard/mouse until Windows has loaded the stack or can't install another Bluetooth stack.
To do this you must open Windows Explorer (unmark "Not show hidden and system files") and on C:\WINDOWS\SYSTEM32\DRIVERS delete following files:
BTHUSB.SYS
BTHPORT.SYS
BTHENUM.SYS
To then install our Bluetooth devices, in my case, first, Logitech's keyboard/mouse so now in addition to having all its features and can use it in BIOS, boot-ons, etc., is can use ANY Bluetooth profiles is announced also allow to me to make transfers to my mobile as shown in the snapshot below that seen the keyboard, mouse and a mobile transfer in progress.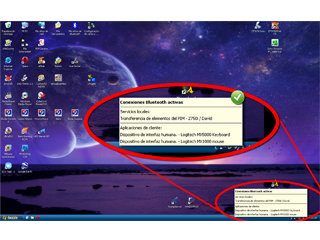 Now there's only one problem…I can't pay back the USB Bluetooth adapter!