In this post we will use photos taken without any GPS receiver at hand, geotag and upload it to GPS so use them as destinations simply select them without having to input data about destination by hand because we introduced the coordinates.
This is possible in consideration of navigation system by pictures that are included in some GPS.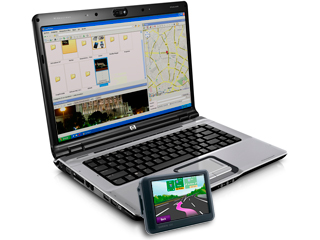 Introduction
Geotagging is defined as the process of adding geographic info in EXIF metadata of image files, video, audio, websites, etc.. to helpful to its georeferencing. Usually, these data are often coordinates defining the longitude and latitude where the media file has been created, although may also include altitude, place name, street and police number, postal address, etc..to later find its geographical coordinates.
The quickest method is by using digital still cameras with built-in GPS devices that can automatically add geographic coordinates to the EXIF metadata standard of the photographs, but is not extended beyond professional scope and price is high, although it tends to work with GPS external receivers work in conjunction with digital still cameras. These GPS receivers record the position every so often like as tracks and then using a computer program compares the date/time when were taken photos with the GPS coordinates at the time photos were taken and add GPS coordinates at the time that the photographs were taken.
Finally, the easiest way, but a little more laborious, is hand locate as we do ourselves with a program. I exclude sites and social networks such as Panoramio, FlickrFly, Tagzania, Zooomr, etc…because really is not done picture geotagging but picture is related with coordinates without write these coordinates in EXIF metadata.
Source:
ikipedia
Program
For geotagging I selected two freeware programs with GEOstetter the most complete and easy use to display and modify geographic data and other metadata (IPTC / XMP / EXIF) of image files (eg images taken by digital still cameras).
Read and write JPEG and TIFF, as well as camera RAW formats DNG (Adobe), CRW, CR2 and THM (Canon), NEF and NRW (Nikon), MRW (Konica Minolta), PEF (Pentax), ORF ( Olympus), ARW, SR2, SRF (Sony) and RAF (Fujifilm), RW2 and RAW (Panasonic), RWL (Leica)
Display existing geographical coordinates, the image addresses and routes in an embedded Google Maps map (requires Internet connection)
Setting geographic data using the embedded Google Maps map (requires Internet connection) or by entering known values for coordinates and altitude directly
Autocomplete the IPTC fields and altitude values (requires internet connection)
Edit IPTC data (IPTC-NAA/XMP)
Ability to change date of pictures taken
Synchronization with file tracks (NMEA, GPX, PLT, Sony LOG, CIG and others)
Synchronization with previously geotagged images from a friend (eg between RAW images and their corresponding JPEG images)
Export to Google Earth (KML)
Synchronization with locr.com
Download program
Official site: www.geosetter.de/en
| | |
| --- | --- |
| Installation is like that all setup programs. Right in the beginning will ask language for installation, EULA, installation path and the Start menu, desktop icons and quick access, and run program after installation. | |
Using the program
Just start the program you have to accept a number of configuration details on how to behave the program depending on the file type.
After accepting and we will find with program GUI clearly divided into three areas: file explorer, preview and Google Maps.

The area of the file explorer is used to find the images you want geotag, the preview is to show currently selected picture and Google maps is used to find the precise coordinates of location you want to associate the image.

With the file explorer will look for the photos you want geotag within our computer.

To confirm that no existing EXIF data in photos that we intend geotag can double-click on picture in file browser, after which deploy all existing info about picture.

After confirming thta no containing data close window and let the picture selected for program can apply the coordinates that we search.

For this work we make use of Google maps by entering some keywords in search box to find location of our photo. If search has gone well just tune up the location zoom in Google maps, when no more changes can tune up we change from "Google Map Street" to "Google Map Satellite" to change the streets map to real images and adjust the exactly location.
If we believe that we have the location defined we will transfer it to photo using icons on top of the map or with command "Map; Assign marker selected images".
Once transferred coordinates already sucessful the hard part of finding the exact point and with coordinates and internet connection is fill rest of EXIF fields related to altitude and location (country, state/province, city and sublocation).
For localization autofill is quite likely that you are prompted to select a number of locations near to you for you especify just one , however if you can not find it you can fill out by hand defining missing fields.
In the image we once accepted as the location in the file browser will see how the new data is reflected, however this data is not saved until you save changes when exiting the program, with the command "Images; Save Changes" or the key combination [Ctrl]+[S].

This process can be repeated for all photos you want geotag as well as labeling on multiple photos with the same location while leaving them selected.