Taking all elements connected we are ready to capture video. This is the easy part because only we will let video editing program to work.

We connect camcorder in playback mode to be detected by the software used for recording.
In my case it is a Sony and you have to slide POWER switch repeatedly in the arrow direction until you turn on the PLAY/EDIT lamp.
We run the program with we will capture the video content, you can use any software, as usually I do video editing using Pinnacle Studio+, sets program to capture and just press PLAY of video so that Pinnacle Studio begins to detect the scenes.
To improve video image quality you can pass a cleaning tape to clean heads the dirt accumulated by the continuous shift from the tapes.
Depending on the program that we use will change the options, but you have to configure the program so that video source will be the camcorder (well as audio) and the capture quality always at maximum. Since this is a capture from an analog source that is not based on time codes of the camcorder, so you have to change it to detect scene changes and Studio+ may order scenes making possible an edit, cut scenes, etc…more easy, but it is not normal way because we'll make an integral dump.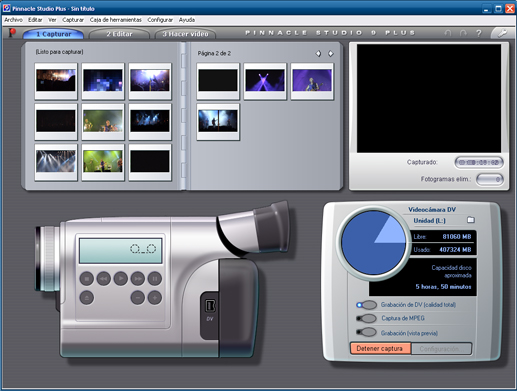 Once video is finished must stop both video player and capture program and from there you can begin edit, remove commercials from movie, transitions, etc.. But if there is not to edit anything just apply a couple of filters to improve image by tape imperfections. Once you have done is just compile to DVD, depending on computer and duration can vary the length of project rendering.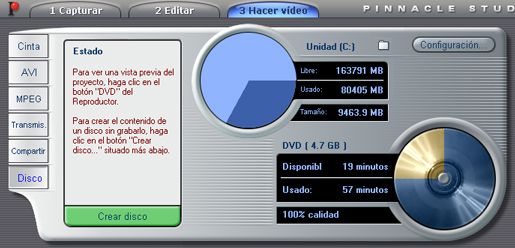 To make sure that is enough space on the hard drive to save the rendering before recording it to DVD, Studio+ assures us 60min on DVD with maximum quality, but we can always configure a dynamic quality to fit the entire video sacrificing a little quality. At one point of rendering the program will ask for a blank DVD for recording in ejecting the tray of recorder. You can use the famous DVD±RW that everyone should have to "testing" but previously deleted content.