The purpose of this post is converting old recordings or movies recorded in VHS format, which deteriorate over time when is in a magnetic medium such as VHS tapes, transfer to digital format, in this case to DVD.Then we can edit and view them on computer or DVD player with advantages of digital video over analog.
In this case we use the camcorder for the analog-digital conversion.

Theory
There are three ways to do this: A DVD recorder with HDD, with an capture card and a camcorder.
HDD recorder. It is easy because it allows copying tapes directly through the scart but only to record no-originals tapes by anticopy signals. Would have to buy a signal regenerator.
Capture card. Capture card is a analog-digital conversor for any analog source.
Camcorder + Firewire. It is similar like the capture card, only that the camcorder makes like analog-digital converter and with the Firewire is transferred to computer.
As I have got a camcorder and firewire card (IEEE-1394) with which I edit videos I choosen this option because I have all elements. While firewire card comes already included new computers and would not need to buy, the card that I have got is a Belkin Firewire 800Mbps against computer's 400Mbps connection.
Firewire card installation
This section is for installing a Firewire card into a computer that does not have a Firewire connection built-in computer, if you already have it you can skip this step.
First would be to go to MediaMarkt or any computer store and buy a Firewire card for PCI. Then you need to disconnect computer from mains and open the lid to put card into a free PCI bay, we insert it on slots that are in the lower part of tower just below the video card.
It is Inserted no more and usually puts a screw into the plate to ensure it does not move, you also have to seek a free power connector.

Where are PCI slots?
| | |
| --- | --- |
| If there is no free power connector will have to buy a duplicator whose full name is "power duplicator Molex 4P-M (5.25)> 2 x 4P-M (5'25)" | |
Once done put the lid on computer and reconnect to mains and when you start Windows surely detect the card and will ask us the drivers whether on CD or downloaded from manufacturer's web.
Connections
Connections are simple just have to be done in series, from video to camcorder and from camcorder to your computer. Here I have an advantage because my camcorder has the HandyCam Station that is a base on bringing together the connections for USB, Firewire, charger and A/V components.
For video connection is used the cable VMC-15FS that comes with camcorder with this cable is linking together with the Scart-RCA adapter, scart is connects to video's TV output and the cable VMC-15FS to A/V connection of camcorder's Handycam Station.
From the very base of the camcorder from Firewire connector (IEEE-1394) connect the camcorder to computer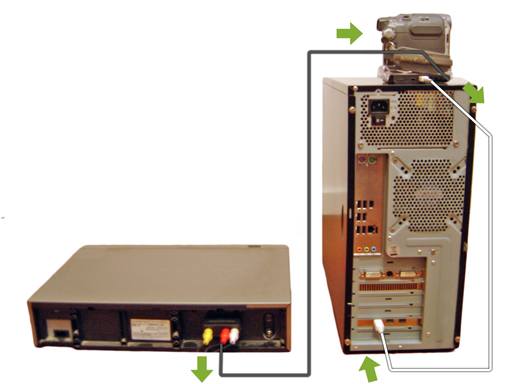 At the end connections should be as are in the picture. And we could begin to capture the video.
Transfer your VHS tapes to DVD with camcorder (2/2)