| | |
| --- | --- |
| | This manual is to help a little on the technical aspects of MP4 player -in my case Sony NW-S618F- about upload music and videos that are not included in official manual and not offer any support. |
Músic
In principle the music presents no problem as it accepts many formats (MP3, WMA, ACC-LC and PCM) and good bitrates, transfer of music files can be done from Windows Explorer or from WMP.
Just a problem occurs when MP4 has to show song titles, artists names… even the music genre. This is because ID3 tags contained into MP3 file that are but metadata for the album, title, artist, year, etc.. This requires reviewing the tags with a program for that job.
I use ID3 TagIT that although is in english is the most complete I've found. You must review thoroughly ID3 tags:
Main entries. Here, obligatorily we fill: Artist, Title, Album, Year, Genre
Detailed entries. The entries are all optional, less Band/Orchestra to avoid problems with WMP especially since this entry will prevail over Artist in Main entries.
After reviewing ID3 tags we'll include a front picture that will be displayed it when playing the song.
Pictures. Load a picture with Get new picture, in Picture type select 03-Cover (front) and set option of Incluide picture in MP3 file when saving, done all this we add image with Add picture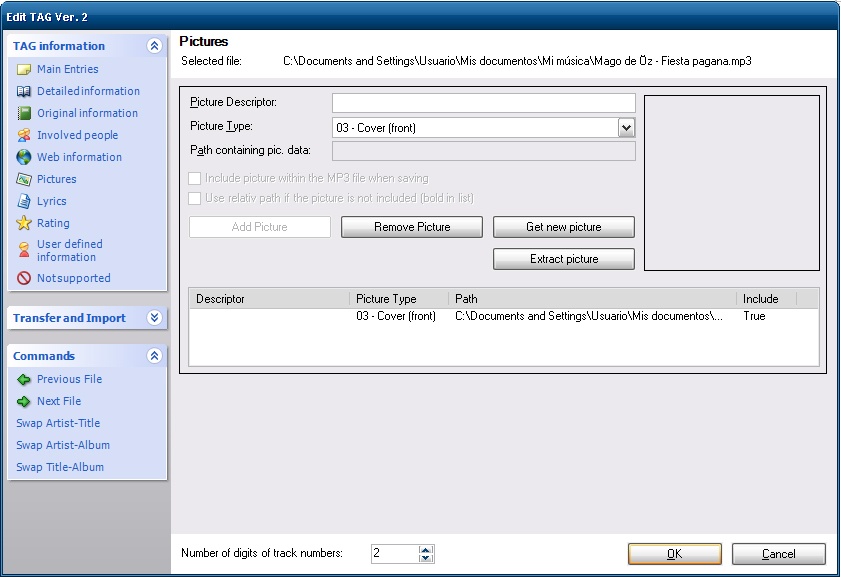 The songs that we've made changes are marked in yellow and for save changes we'll make keys combination Ctrl+S. To avoid problems we must ensure the file isn't in use or marked as "Read only"…or force his saving from preferencies.
Video
With videos is different because is more difficult, you can only play MP4. Sony delivers the "Media Manager for WALKMAN" which upload the videos…with a watermark in center of screen so you must pay 12'95€ by PRO version.
It's a MP4 very defined profile in both video and audio and although you can find a lot of kicks to MP4 converters the vast majority does not meet standard to be played on MP4 Sony…this has cost me 5 subformats of MP4 and test about 7 converters.
All in 1 Video Converter
A nice converter and also for various mobile and portable devices is All in 1 Mobile Video Converter, is a converter "on demand", where you choose the device you have got and program adapts video to the device you have no need for anything more, just choose video and sound quality and folder.
Naturally you can change features for more specific things putting data at hand. After installing program can apply one of many serial or keygen to run some of which are included.
To convert file must first be loaded into the list by clicking on Add and will appears you two options File … and Folder …, the first is to load just file or several different directories and the second to load all the videos placed in a directory. In Device type choose Media player at Manufacturer you choose Sony and Model the model you have got, for my case NWZ-S618F, we put quality at top of both video and sound by selecting ….Video quality: Best and Audio quality: Best.
Next section is where you store resulting files, Preserve files location keep them in the same directory where they are located and Save files to folder to specify the directory where you want to save. And you only have to click on Convert to convert your videos to MP4 and transfer them to MP4's VIDEO folder.
| | |
| --- | --- |
| | |
| Default skin (MacOS) | WMP11 skin |
Free Video Converter
For those who want to stay in "legality" there is a free converter that also works, is more technical and not so complete. The Free Video Converter, is easy to use, but have to define the technical parameters:
Codec: MP4
Size: 320x240px
Aspect: 16:9
Video bitrate: to taste, can use maximum 2048kbps
Audio bitrate: to taste, can use maximun 192kbps
To include covers or
snapshots
in videos list just have to put the same name as video and in the same folder than the video, the images should be .JPG with measures of 160x120px. For example, for video "Example.mp4" would place image "Example.jpg" in the same directory: VIDEO.
Download
Video converters Sony MP4
Ask to reupload files
WMP11 (skin Sony)
Ask to reupload file