This card is a clone of R4 that was released in November and which is not collected almost no information outside of official site, has a kernel and operation different with other R4 making it impossible to have support for this card in firmware, guides…even skins.
This guide is a "How To…" to know how to use this card model from scratch with all its features.

Purchase
The card was purchase in ChipSpain recommended by users in different forums and DULM's staff (www.desdeunlugarmejor.com), besides the prices are good and give much information on shipments, payment methods and in particular the card payment Banesto credit through the secure SSL connection with payment method Secure Electronic Commerce (ESC) promoted by Visa International.
Shipping
Delivery will be made through NACEX who promptly informs you via email the status of your order or through its website using the code shipping and delivery to you in an envelope inside coated with plastic materials used in fragile objects and all elements are in corresponding blisters is very unlikely that your order arrives damaged. Today ChispSpain selling it as a normal R4 Revolution SDHC card while manufacturer has changed model to R4 SDHC Upgrade Revolution.
Unpacking
R4 card pack in 4Gb version includes: R4 card with SDHC support, a microSD card USB reader and a 4GB microSD card.
The R4 card and card reader are in the same blister, the 4Gb microSD card comes in a SanDisk's blister in a plastic pack to further protect the microSD banging. It does not include the CD and manual, since the CD came always outdated and you had to download firmware from official page and manufacturer saves manufacturing costs.
R4 features
Memorize and restore to the previously selected game or app after restarting machine and soft-reset.
Recognizes and displays the SD card type, volume and format type.
Supports sleep mode.
Fits perfectly in slot 1.
Uses microSD cards formatted in FAT16 or FAT32.
It supports microSD up to 32Gbytes.
Supports cards with any speed without slowing the game.
Loading clean ROMS (no patch) so it runs on any operating system.
No need Passme or Flashme.
Save your game directly to microSD and not internal DS chip.
Supports Moonshell and homebrews.
Supports Rumble pack and memory pack.
Supports WIFI game, DS Rumble pack and DS Browser.
Customizable menu skins.
Set up four levels of screen brightness.
Supports soft-reset.
It detects and creates the file automatically saved.
Touch Menu.
Autopatch DLDI.
MicroSD setup
After opening the blister, you have to take USB reader and plug it to computer, to connect you must to just few wait seconds until this is recognized as a disk drive over and assigned a letter (ex. K: ) Once it say you the hardware is ready to use, you have insert the microSD into USB reader. Since we do not know how is arrived microSD card we will format it.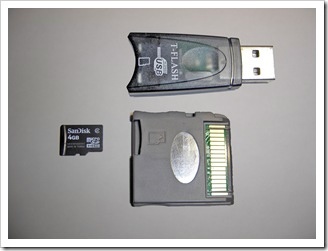 Once that has been formatted microSD must introduce the firmware or kernel, this requires download from specialized pages or official site, itself latter being preferable because may it can hang with white or black screen or permanent "Loading …" if kernel is not correct.
Kernel consists of three folders: R4iMenu, moonshl2 and moonmemo include "R4.dat" file, these files are called kernel or firmware of the R4 should be copied to root folder of microSD card to work. Then separate you can add "autorun.inf" and a. ICO file to change the name and icon of the R4 when it is connected to computer to distinguish it from other removable disk icons.
Official kernels
| | |
| --- | --- |
| | |
| Load of kernel… | Main menu |
Games
To load games just have to add any. NDS files to the microSD, you can copy them in root folder but to have everything in a little order may can copy in a folder (ex. K:\Games) once done there is only to turn on console and use the first main menu option. There he will show you complete list games loaded. When running any ROM will make an autosave and then execute it, however to save a play some games report that save file is damaged…no more problem let he creates one and leave us save the current game.
Music and pictures
For play and display these files is done through Moonshell that is integrated in kernel and is accessed from second main menu option. Play music in MP3. Too, as in games also offered the possibility to create folders for not create confusions, you can create the folders K:\Photos and K:\Music.
Videos
Just one supported format is .DPG format so all videos must be converted before transfer them to microSD. Using DPGtools program will convert .AVI,. MPG, .WMV and .FLV formats to .DPG format that is supported by NDS. Following the same premise can organize these files to create K:Video folder and be playable with Moonshell with second main menu option.
| | | | |
| --- | --- | --- | --- |
| | | | |
| Moonshell | Moonshell system menu | GUI/Audio configuration | Notepad |
Within Moonshell is what might be called a system menu which is on picture#2 from which we can return to main menu to configure certain aspects of the GUI and audio, open notepad that is saved as .BMP
Skins
Here is another paragraph in which the "R4 Upgrade Revolution" stands out among other peculiarities of the R4, the R4 skins use four files for main menu and games, this card uses fifteen files to customize menus and apart icons, buttons and background colors for icons.
By default, kernel already includes 6 skins that allow you to change graphical appearance of menus, but if we had not enough we can replace images by other more suitable to our tastes, on respect 256x192x16M BMP format, but also to allow as much customization should do same with icons and background colors with "color.ini" file. Files must have the same name as original and can deploy to create another directory as the originals under K\:R4i\Menu\skin folder.
Nintendo has released an update for
NDSi
, this improves the features of camera and upload photos more easily to Facebook. The recommendation is
NOT TO UPDATE
firmware to version 1.4.1 and from that moment the console will block the flashcards and you can't play the games, there are still discrepancies about flashcards still running or not after the upgrade so it is better not update until not release any solution.